Bata Pakistan's new ad campaign has received backlash in social media for propagating sexism. The campaign poster which was put up at Packages Mall, Lahore, depicts a man standing in an elegant pose, with "womaniser and comfortable with it" inscribed at the bottom.
Following the emergence of posters, many people took to social media to criticise the ad which was sexist in nature.
One Twitterati wrote:
Quote:This is not cool Bata Pakistan. It is campaigns like this that promote disrespect of women and condone misogyny. This is not ok at all.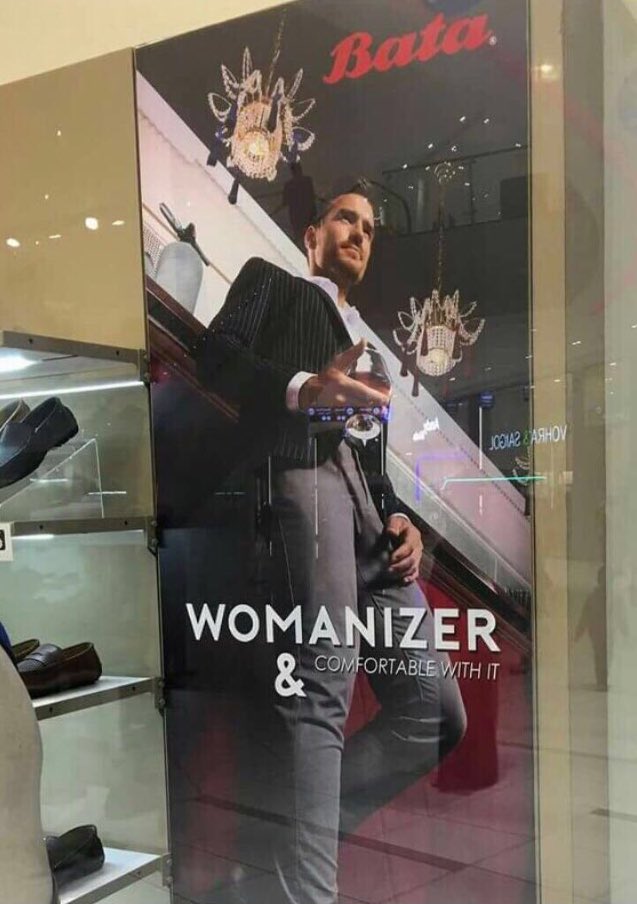 While another chose sarcasm to blast the ad, saying:
Quote:Good job Bata and their creative advertisement agency—fout ho jain please (please die)
Another Twitter user tried enlightened Bata of the connotation of the word 'Womaniser', asking whether people who work at Bata do not know what the word means.
As Bata seemed troubled looking up the meaning of the word in the dictionary, it may be mentioned here that womaniser— playboy, lecher— means a man who engages in numerous casual sexual affairs with women. And Pakistani society that is rife with misogyny does not need more encouragement from such brands that just want to sell their shoes off.
After being lambasted at social media by many users, the company issued an apology, feeling sorry for "inconvenience people may have suffered" as a result of their promotion campaign. The apology note posted at their Twitter account says:
Quote:Please accept our sincere apologies for the inconvenience you may have experienced in respect to the poster which was printed out of Pakistan and inadvertently displayed at our Packages Mall outlet